Certified collection – reliable service for vets, riding stables, etc.
When handling dead animals, strict hygiene standards and various legal requirements must be observed. As a reliable partner, we support you via fast and safe removal.
SecAnim is the expert within the SARIA Group for this activity. From zoos and riding stables to veterinary clinics, we provide professional collection of fallen animals. With around 180 unique collection vehicles nationwide, we can respond promptly and soon be at the agreed location, aided by our comprehensive network of locations.
When it comes to professional collection and removal of fallen animals, SecAnim stands ready to assist you as a reliable service provider. Safety and uncompromising compliance with all EU directives are an absolute priority. Accordingly, the process steps in the SecAnim system are carried out in a precisely defined sequence: processing, sterilisation, drying and degreasing. In addition, all vehicles are thoroughly cleaned and disinfected inside and out after each day's deployment.
Our specially designed hygienic and safe collection vehicles.
ecoMotion – Producing top quality biodiesel since 2001
As our customer, you contribute to sustainable recycling and a more environmentally friendly future. The fats derived from processing animal by-products are marketed as a feedstock for biodiesel, while the sterile meals serve as alternative fuel for power plants or are used in the cement industry.
A career with SARIA.
We are the best partner for sustainable solutions and set new standards within our industry with tailor-made products and services. We look forward to meeting you!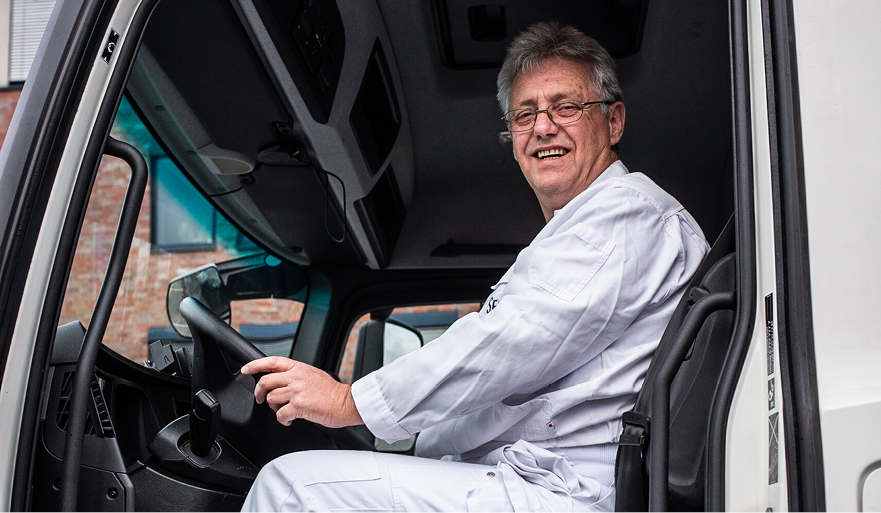 With more than 10,000 employees and operations in 26 countries around the world, SARIA is a global company and leading specialist in the recycling of animal and plant waste. At the same time, as a family business we value a hands-on mentality and want each employee to grow and develop their abilities. It is this combination that makes us stand out as an employer and characterises life at SARIA.
Thanks to the wide range of activities and continuous growth of our Group, we offer exciting career opportunities and appropriate jobs to suit almost any professional background. As an employee of the SARIA Group, you can help play your part in supporting sustainable use of resources. For more information and current job openings, click here.
You would like to know more about our work?