Ingredients for pet food – reliable quality for your products
A pet is usually a cherished family member. If your mission is to contribute to this close bond through healthy, sustainable and high-quality feeds and supplements, then we at SARIA share your vision and mission. Our common goal is to manufacture quality products for pet nutrition – SARIA is where pet food starts.
We value sustainability, health, transparency and trust-based partnerships. We understand the huge importance of pets for many people and their families. As such, we are committed to continuous development of our products, especially with regard to safety, sustainability and quality. Across all of our processes, as our partner you can be assured of receiving the heighest quality. All products can be readily integrated into your formulations and applications, allowing you to create the best possible value proposition for your end customers – pets and pet owners.
What we offer
We offer a large selection comprising various animal species, from basic ingredients such as chicken and pork to more unusual species like wild boar, lamb, goose and even kangaroo. To help you meet customer needs, we can also supply products with organic certification. Our portfolio ranges from proteins and fats to wet pet food ingredients. We offer single-species meals such as pure pork and poultry, in line with your specific needs and formulations. If you are looking for the perfect mix of species, our multi-species meals will enable you to create the most nutritious possible diet for your customers.
Our wet pet food ingredients can be purchased according to your needs: frozen, freshly pre-processed or as ready-to-use formulations. Our high-quality facilities can produce blends and also single items based on technical analysis and recipes submitted by your formulators. All of our products are subject to a rigorous detection process that minimises the risk of foreign bodies. "Target Zero" for foreign bodies is the shared objective of our suppliers and facilities.
A quick overview of our pet food ingredients:
Pork ingredients: Pork is a cherished and long-established favourite among consumers. Known for being a great source of protein, it offers high palatability for dogs and cats because we source from certified farms that promote sustainable and responsible pig farming. Moreover, our products offer you the flexibility to optimise your process flow when choosing between mixes and unique blends.
Beef or veal ingredients: These ingredients complement your recipe and ensure high palatability. You are guaranteed the freshest beef and veal products and benefit from our efficient local and international sourcing network.
Poultry ingredients: Poultry products are the most important and most highly favoured ingredients for palatable and nutritious pet food. Based on various natural and free range options, we offer handpicked and freshly sourced choices in order to boost the palatability of your final products.
Lamb ingredients: Our lamb ingredients add the premium touch to your products. They are sourced exclusively from premium-grade animals to ensure high palatability of your products. With your production demands in mind, we can mix products to suit your operational requirements.
Fish ingredients: Sustainability is a key aspect with regard to fish and we therefore focus on maximum peace of mind when it comes to sourcing. We offer meals and fats as well as wet products, such as frames, heads, bellies and tails, from various species.
Specialties: If you're looking for products with specific custom values or even rare species as an ingredient, look no further! We offer ingredients such as rabbit and other specialties, including duck, goat and wild boar.
Quality, safety, and sustainability are our key principles. This is reflected in the value chain from slaughterhouse sourcing right through to your production facilities. The process starts with close cooperation with local slaughterhouses to optimise logistics via short transport routes from there to our facilities. Documenting every step in detail makes it possible to trace exactly where all products came from. You can thus guarantee your customers complete traceability along the entire value chain. Ecological sustainability of our products is another priority. We optimise our logistics operations every day and seek to minimise the impact of our production facilities.
Wherever you are located, one of our factories and sustainable supply options will be within reach. We have a presence across Europe as well as in Russia and the United States. It is also possible to order delivery of fresh or frozen products worldwide through our sales offices in South America and Asia.
Looking for special products for the production of pet food? Our products have the characteristic smell of fish, meat or poultry and are easy to mix with other ingredients, making them ideal as components for dry or wet food. Find out more at Sinova, SARVAL or Van Hessen as your partners for tailor-made products.
Bioiberica – we take Life Science further.
Outstanding expertise in biomolecules: Bioiberica is a global life science company dedicated to the health and well-being of people, animals and plants. Its core business is the identification, extraction and development of biomolecules of animal origin, which are processed into high-quality active ingredients for various industries. The company's extensive product portfolio includes nutritional additives and innovative feed ingredients that improve the performance and health of pets and livestock.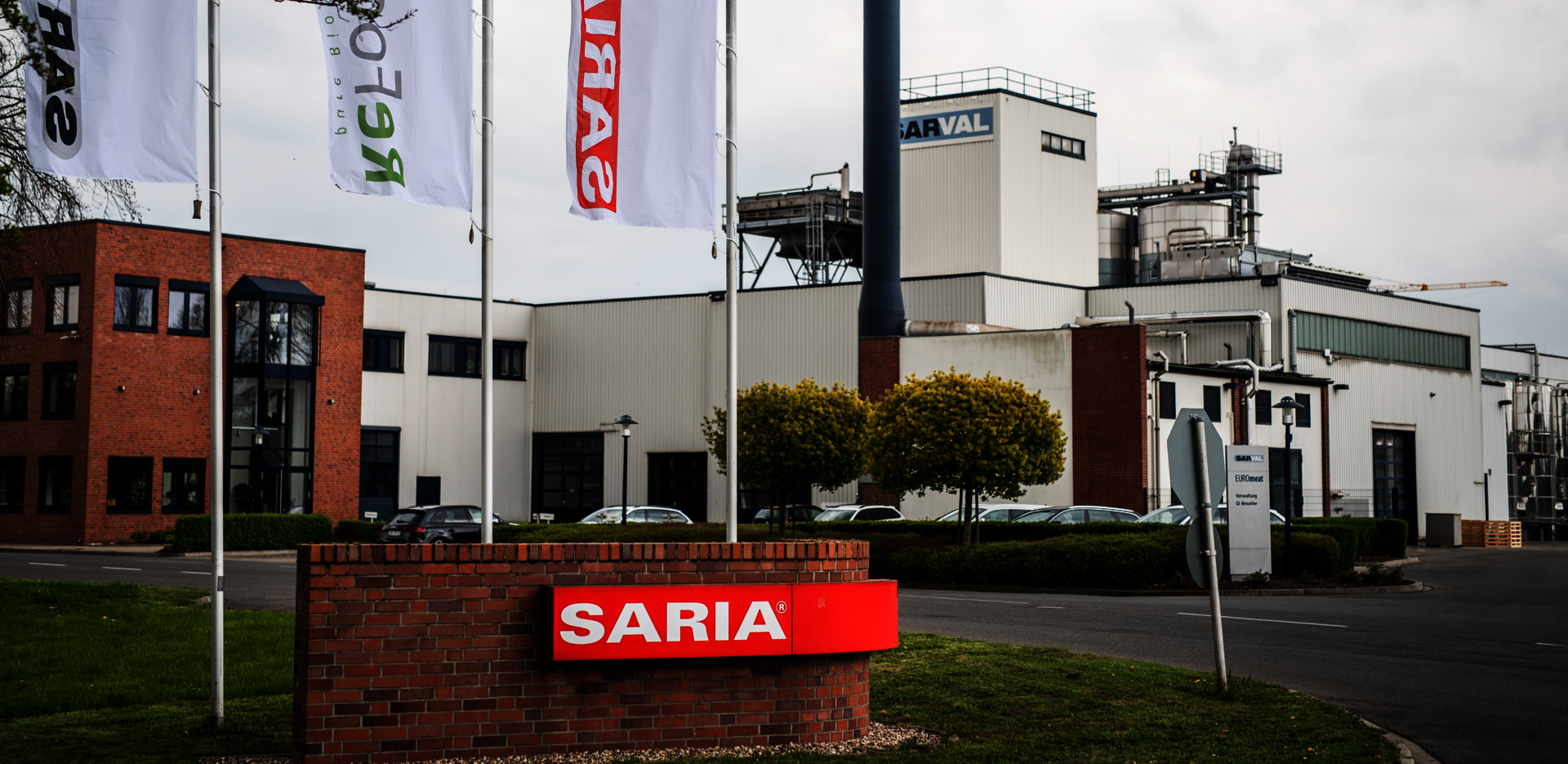 Location in Marl, Germany.
A career with SARIA.
We are the best partner for sustainable solutions and set new standards within our industry with tailor-made products and services. We look forward to meeting you!
With more than 10,000 employees and operations in 26 countries around the world, SARIA is a global company and leading specialist in the recycling of animal and plant waste. At the same time, as a family business we value a hands-on mentality and want each employee to grow and develop their abilities. It is this combination that makes us stand out as an employer and characterises life at SARIA.
Dank des breiten Spektrums an Tätigkeitsfeldern und des kontinuierlichen Wachstums unserer Gruppe bieten wir spannende Karrieremöglichkeiten und passende Jobs für nahezu jeden beruflichen Hintergrund. Als Mitarbeiter der SARIA-Gruppe können auch Sie Ihren Teil dazu beitragen, einen nachhaltigen Umgang mit Ressourcen zu unterstützen. Weitere Informationen und aktuelle Stellenausschreibungen finden Sie hier.
You would like to know more about our work?