Aquaculture – healthy and sustainable products for your breeding programme
Fish is one of the most important foods for humans and is set to become even more so as an ecologically and healthy option, due to its healthy protein and oils.
Today, more than 50 per cent of the fish catch is sourced sustainably from aquaculture. High-quality proteins for feeding are required to meet this growing demand for fish and shrimps – proteins that need to be sustainably sourced. In the past, fish meal based on wild-caught fish was often used as the main ingredient in aqua diets. Today's diets make use of animal proteins and oils as building blocks for shrimp and fish. A key advantage here is the ability to tailor feed to the specific needs of the species and its nutritional requirements. We strongly believe that animal by-products have an important place in these modern aqua diets, helping to reduce their ecological and commercial footprint and supporting an even more sustainable aquaculture industry.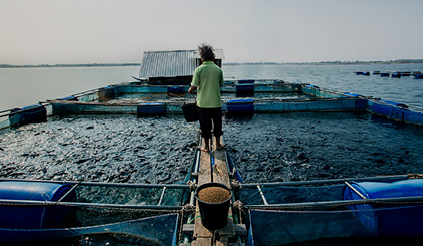 What we offer
The right combination of proteins, fat, oils and supplements ensures the right diet for each fish species, e.g. salmon, sea bass, sea bream or shrimp. A sustainable aqua diet may contain plant proteins and other components as fibre, but many sustainable proteins for fish can be derived from animal by-products and our high-quality ingredients.
Our poultry meals, fats and oils, pork and blood meals provide easily digestible protein, phosphorous and energy for healthy fish and shrimp growth. Depending on formulation, a balanced feed may also require marine-sourced proteins based on fish meal and oil, in this case mainly unsaturated fatty acids. This fish needs to be sourced sustainably. Our fish by-products are just such a sustainable source of ingredients. Our fish oils and meals are by-product based, 100 per cent species-dedicated if required, and therefore meet the highest standards for traceability, sustainability and nutrition.
We offer a broad range of products designed to fulfil all your needs – regardless of whether you choose meat-based or fish-based proteins.
A good aqua diet needs more than just proteins or oils, though. It has to support healthy development of the fish or shrimp. In order to ensure this, we also offer supplements such as nucleotides and extremely hydrolysed proteins to optimise specific diets.
To guarantee that the aqua diet has maximum impact and results in strong growth performance, it needs to be attractive and palatable. Using protein hydrolysates makes it possible to increase the attractiveness of diets (pelted or extruded). Accordingly, our dedicated experts have developed a range of protein hydrolysates based on marine ingredients in South America and Europe, close to the aquaculture markets. We offer species-related solutions, like krill meal, which is an excellent palatability enhancer for shrimp and fish feed.
All our products are subject to a rigorous detection process that minimises the risk of foreign bodies. "Target Zero" for foreign bodies is the shared objective of our suppliers and facilities. We also guarantee that all our single-species products are free of foreign DNA.
A quick overview of our aquafeed ingredients:
Poultry ingredients: Poultry products are vital ingredients for palatable and nutritious aquafeed. Based on various natural and free-range options, we offer handpicked and freshly sourced choices in order to boost the palatability of your final products.
Fish ingredients: Sustainability is a key aspect with regard to fish and we therefore focus on maximum peace of mind when it comes to sourcing. Our products include single-species and multi-species fish meals and fats.
Quality, safety and sustainability are our key principles. This is reflected in the value chain from slaughterhouse sourcing right through to your aquaculture operation. The process starts with close cooperation with local slaughterhouses to optimise logistics via short transport routes from there to our facilities. Documenting every step in detail makes it possible to trace exactly where all products came from.
Wherever you are located, we are within easy reach of your feed processing and formulation plants and thus able to provide a sustainable supply option, unlike the case with other ingredients, such as soy. We have a presence across Europe as well as in Russia, the United States and South America, with additional sales offices in Asia.
Looking for special products for your aquaculture? Our products have the characteristic smell of fish, meat or poultry and are easy to mix with other ingredients, making them ideal for your aquaculture operations. Find out more at Sinova, SARVAL, Bioceval oder Bioiberica – your partners for tailor-made feed formulations.
Bioiberica – we take Life Science further.
Outstanding expertise in biomolecules: Bioiberica is a global life science company dedicated to the health and well-being of people, animals and plants. Its core business is the identification, extraction and development of biomolecules of animal origin, which are processed into high-quality active ingredients for various industries. The company's extensive product portfolio includes nutritional additives and innovative feed ingredients that improve the performance and health of pets and livestock.
A career with SARIA.
We are the best partner for sustainable solutions and set new standards within our industry with tailor-made products and services. We look forward to meeting you!
With more than 10,000 employees and operations in 26 countries around the world, SARIA is a global company and leading specialist in the recycling of animal and plant waste. At the same time, as a family business we value a hands-on mentality and want each employee to grow and develop their abilities. It is this combination that makes us stand out as an employer and characterises life at SARIA.
Thanks to the wide range of activities and continuous growth of our Group, we offer exciting career opportunities and appropriate jobs to suit almost any professional background. As an employee of the SARIA Group, you can help play your part in supporting sustainable use of resources. For more information and current job openings, click here.
You would like to know more about our work?